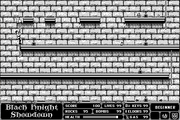 Black Knight's Showdown & The Final Battle is an indoor level, and is the final level on the Main Hall Level Path, in Beyond Dark Castle. It has shown up in Beyond Dark Castle, and will show up in Return to Dark Castle.
After collecting all the Orbs, Prince Duncan enters through the previously closed gate, to a large area, spanning up. As Duncan starts to make his way of the level, he notices that there is a familiar sound, accompanied by familiar mugs it is clear that this is home to the "Final Battle" with the Black Knight.
Items
[
]
Obstacles
[
]
Enemies
[
]
Exits
[
]
Levels on the Path
[
]
Main article: Main Hall
Advanced Ending
[
]
Main article: Beyond Dark Castle Advanced Ending
This level ends very differently on Advanced, for more information click the link above this.
Trivia
[
]
Gallery
[
]
See also
[
]