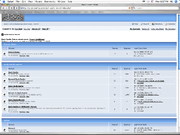 The Dark Castle Forum was started by Dark Castle fan, Jon God, on the 22nd of February, in 2007.
History
The Dark Castle Forum started off, with 3 members, Jon God, Izdale, and tbone922. With little to no advertising the forum was only know about by people that passed it on, with few members joining, Jon God decided to advertize the forum, on a few select sites, with the help of the other members of the forum.
On April 3rd, 2007, Z Sculpt updated their site, with a link to the Dark Castle Forum, since then the forum has slowly grown into a lively community, filled with it's own little clichés, and jokes.
Surprisingly on April 26, 2007, Zack Morris joined the forum, and answered some questions that people were asking on the forum.
On December 30th, 2007, Paul C. Pratt, creator of Mini vMac linked to it at his homepage.
Notable Members
Izdale - Another one of the original Members, has spent a lot of time contributing to the Dark Castle Community.
gruz - A great member of the Dark Castle Forum, who was elected Moderator.
Sam - An interesting member of the forum, responsible for some great finds, and the creation of "iCalicontide".
Richard - Best Dark Castle player that ever lived... Maybe... He's open to challenges. Also the author of a 12+ page long story with Dark Castle characters.
Company Members involved with the Forum
Zack Morris - Is never afraid to talk to the community, and be a friend to all.
See Also
Links
Community content is available under
CC-BY-SA
unless otherwise noted.