(4 intermediate revisions by 2 users not shown)
Line 1:
Line 1:
 

[[Image:Fireball-2.jpg|right|thumbnail|'''Fireball 2''' from the original [[Dark Castle]].]]

 

[[Image:Fireball-2.jpg|right|thumbnail|'''Fireball 2''' from the original [[Dark Castle]].]]

−

'''Fireball 2''' is indoor level, that takes place in a cave, one must jump across the floating platforms to make it through the level. It is the Second level on the [[Fireball Level Path]], in [[Dark Castle]]. It has shown up in '''Dark Castle''', and will show up in [[Return to Dark Castle.]]

+

'''Fireball 2''' is indoor level that takes place in a cave must jump across the floating platforms to make it through the level. It is the Second level on the [[Fireball Level Path]], in [[Dark Castle]]. It in '''Dark Castle''', and will show up in [[Return to Dark Castle]]

 
 
 

==Enemies==

 

==Enemies==

Line 21:
Line 21:
 
 
 

This is the same liquid in [[Fireball 3]].

 

This is the same liquid in [[Fireball 3]].

 
+
 
+

==Levels on the Path==

 
+

''Main article: [[Fireball Level Path]]''

 
+
 
+

*[[Fireball 1]]

 
+

*'''Fireball 2'''

 
+

*[[Fireball 3]]

 
+

*[[Fireball 4]]

 
 
 

==Gallery==

 

==Gallery==

Line 26:
Line 34:
 

Image:Fireball-2.jpg|'''Fireball 2''' from [[Dark Castle]] Mac.

 

Image:Fireball-2.jpg|'''Fireball 2''' from [[Dark Castle]] Mac.

 

Image:FB2.png|'''Fireball 2''' from [[Dark Castle PC]].

 

Image:FB2.png|'''Fireball 2''' from [[Dark Castle PC]].

 
+

Image:Fireball 2.jpg|[[Fireball 2]] from [[Dark Castle SEGA]].

 

Image:Fireball 2.png|'''Fireball 2''' from [[Color Dark Castle]].

 

Image:Fireball 2.png|'''Fireball 2''' from [[Color Dark Castle]].

 

</gallery>

 

</gallery>

−
 
 
 
 

==See also==

 

==See also==
---
Latest revision as of 23:54, 25 February 2008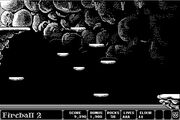 Fireball 2 is an indoor level that takes place in a cave. One must jump across the floating platforms to make it through the level. It is the Second level on the Fireball Level Path, in Dark Castle. It appears in Dark Castle, and Color Dark Castle, and will show up in Return to Dark Castle.
Enemies
[
]
Obstacles
[
]
Items
[
]
Exits
[
]
Lava/Water
[
]
In the original version of Dark Castle, the liquid at the bottom of the level was water, but in the Color Dark Castle version, it was changed to Lava.
It is unknown what liquid will be in Return to Dark Castle.
This is the same liquid in Fireball 3.
Levels on the Path
[
]
Main article: Fireball Level Path
Gallery
[
]
See also
[
]