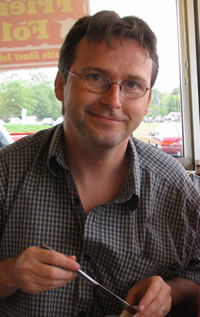 Joe Williams (September 22, 1965 - ), also known as "Joedelta", is best known for founding Delta Tao. He designed and produced several popular applications and games for Macintosh, including Spaceward Ho!, Eric's Ultimate Solitaire, Clan Lord, Color Dark Castle and the paint program Color MacCheese.
Williams was born James Joseph Williams II in Miami, Oklahoma. He graduated from Delta Junction High School in 1983, and was an undergraduate at Caltech. Before becoming a software developer, he was a professional poker player.
Joe William's company Delta Tao developed and produced Color Dark Castle.
Also See
[
]
External links
[
]