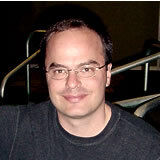 Jonathan Gay is the main programmer behind Dark Castle, and Beyond Dark Castle. He is one of the two Dark Castle Co-Creators, along with Mark Stephen Pierce
Dark Castle involvment
[
]
Main Article Dark Castle
When working along with Mark Stephen Pierce at the software company Silicon Beach Software, they came up with a platforming game. At the time they had no idea how well the game would do, with it topping the sales charts for 36 months, and spawning a sequel. He he was the main programmer behind the game, with Mark Stephen Pierce doing the graphics, Erik Zocher doing sound programming, and Dick Noel doing voice overs.
Beyond Dark Castle involvment
[
]
Main Article Beyond Dark Castle
A year after the launch of Dark Castle, Beyond Dark Castle was finished, it contained more adventure game elements, and was longer, with more story. The same team was used to make it's sequel. This would be the last game the team would work on together.
Personal Life
[
]
After having Silicon Beach Software bought up, Jonathan Gay went on to develop flash, and worked at adobe for a while, before founding his own company, Software As Art.
Also See
[
]
Links
[
]