Description
[
]
The Mine Shaft is an underground secret level.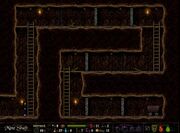 Entrance
[
]
The Mine Shaft can be entered by carefully jumping across the chasm at the bottom right of the Cave Dungeon.
Objective
[
]
Destroy every rock wall with bombs and reach the Mine Cart Treasure.
Enemies
[
]
Main Article: Enemies
Items
[
]
Main Article: Items
Exits
[
]
Spoilers and Hints
[
]
Rock walls will remain broken until the player leaves the level, so should the player die he won't have to go back and get more bombs.
See also
[
]