Description
[
]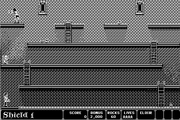 Shield 1 is an Indoor level. It is the first level on the Shield Level Path, in Dark Castle. It has shown up in Dark Castle, and Color Dark Castle, and will show up in Return to Dark Castle.
Entrance
[
]
Go to the far right door in Great Hall. In Return to Dark Castle, you have to use a bomb to blow open the boarded up door.
Objective
[
]
you have to avoid boulder and clim to the top of the level to pass it. This level plays similarly to the old Arcade game 'Donkey Kong'.
Theories
[
]
Some location on the right of the second floor might be a safe spot. This theory is based on long-term observation.
Enemies
[
]
Main Article: Enemies
Items
[
]
Main Article: Items
Obstacles
[
]
Main Article: Obstacles
Exits
[
]
Levels on the Path
[
]
Main article: Shield Level Path
Gallery
[
]
See also
[
]