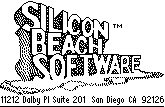 Silicon Beach Software was a 1980's software company, located in San Diego, it was bought up by Aldus, for it's graphical applications in 1990. In 1994, Aldus was bought up by adobe systems, and Delta Tao snatched up the right fro Dark Castle, and quickly made Color Dark Castle.
Notable Employees
Games Released
Airborne! - Air Combat game.
Dark Castle - Side scrolling platforming game, very revolutionary.
Beyond Dark Castle (1987) - Sequel to Dark Castle.
See Also